SIMPATI – Smartly programmed
Weiss has been working for years in collaboration with leading process automation manufacturers, and is continually developing its control and documentation software SIMPATI.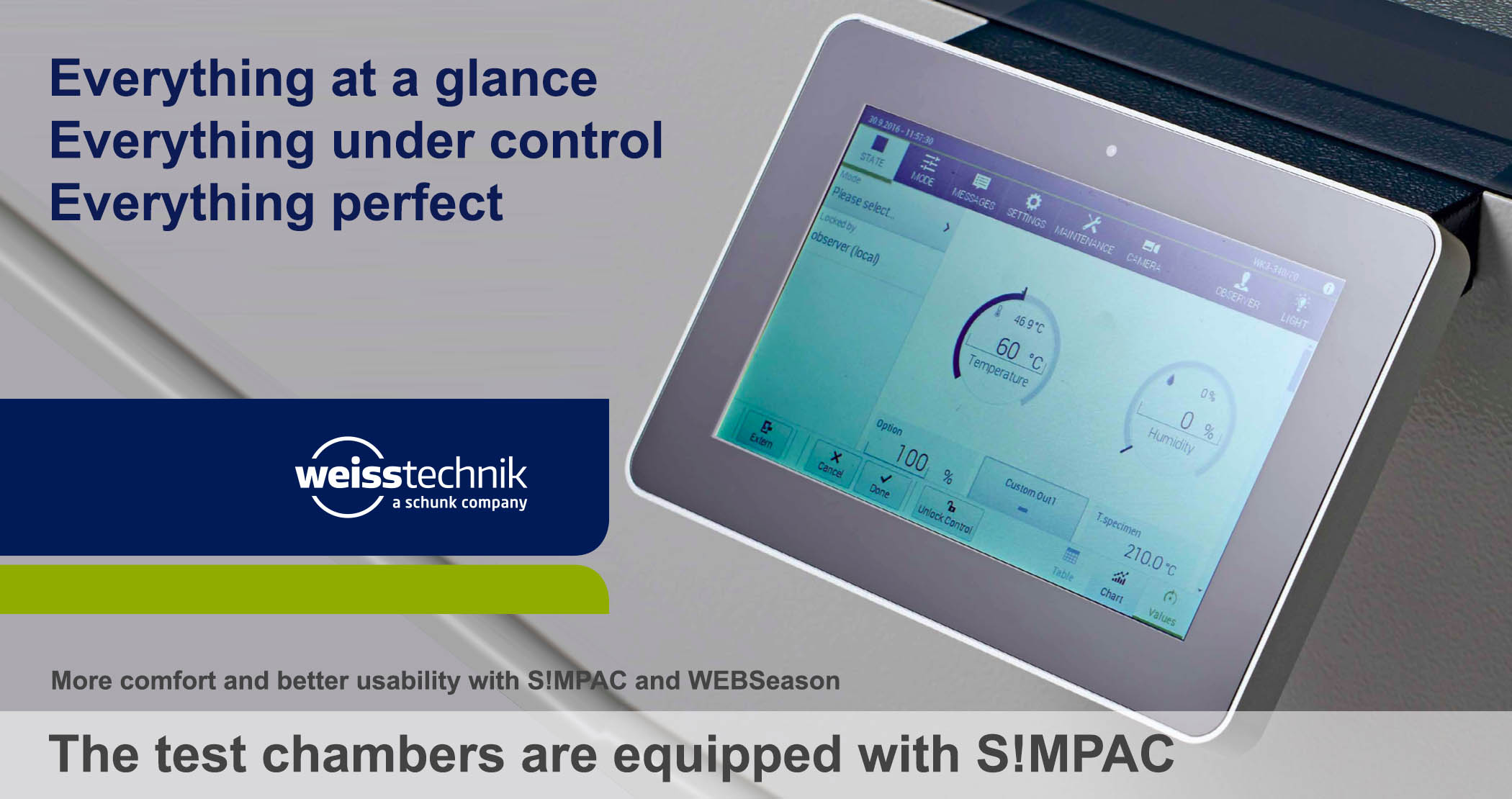 On the way to Industry 4.0, requirements in the entire production have rapidly risen, as has the demand for 100% quality control. It must be fully integrated into all processes, permit comprehensive traceability, and make it possible to instantly intervene in the event of any deviations.
The flow of production should be maintained without any interference from tests, so that delivery times can be adhered to, and the products are always available anywhere and everywhere in a globalized world. Individual solutions, like the ones frequently used in research and development laboratories, will therefore be discontinued models in the quality assurance of tomorrow.
Weiss has been working for years in collaboration with leading process automation manufacturers, and is continually developing its control and documentation software SIMPATI.
SIMPATI plays a decisive role in the integration of environmental simulation chambers into the production process.
SIMPATI runs and documents the testing process, visualizes the testing procedure and interconnects up to 99 systems in a network. With SIMPATI web, systems can be controlled and monitored via browser control; the specimen can be observed in real time with a camera connection. SIMPATI time labs and SIMPATI time labs infrared display the camera pictures, thereby enabling any changes during the testing process to be precisely monitored, while simultaneously correlating with the measured values. The use of SIMPATI barcode scan enables 100 % traceability of process data – for quality certification with no gaps remaining.
More comfort and better usability with SIMPAC and WEBSeason 
The test chambers are equipped with SIMPAC, the digital measuring and regulation system for control, monitoring and documentation, as standard.
The innovative WEBSeason user interface allows you to program, control and monitor your tests at anytime and anywhere. In this way, WEBSeason provides a new dimension of flexibility and efficiency.
Modern and dynamic design with gesture control for intuitive operation
The multi-user concept allows several users to have access at the same time, user rights are individually allocated
Easy programming of test procedures and loops
Program preview presented as a chart
Global access, even from tablets and smartphones
10 languages and 2 units for temperature and pressure can be set to suit the user and the settings can be saved.
In SIMPATI, smart integration is programmed in
Networking 
The control software SIMPATI makes it possible to optimally integrate environmental testing facilities into smart production processes.
Ability to create a network of different test systems
Up to 99 systems can be controlled, including extra measuring instruments
Managing the Process 
Control of the test systems is easier and saves time. The integrated monitoring routines make system operation more reliable. You can individually set the scope and frequency. 
Control test sequences
Effortlessly write test programs with the program editor
Easily manage programs for production sequences and tests
Management and administration of different users and user groups
Easily configurable e-mail sending process when incidents occur
Future events can be set and easily displayed via the planner (laboratory management)
Analysis and Documentation 
By analyzing and documenting test sequences, as well as including your specific measured data, an improved standard of quality can be guaranteed.
Store measured data
Record irregularities and functional disturbances during test sequences
Print measured data as a chart
Export measured data into other programs for computational analysis
Calculate gradients of process parameters and times of changes to process parameters
Use clear charts to display analyses