Easy handling of electronic components – ESD protection
Weiss Technik offers reliable protection for development divisions and production with its ESD options for environmental simulation cabinets.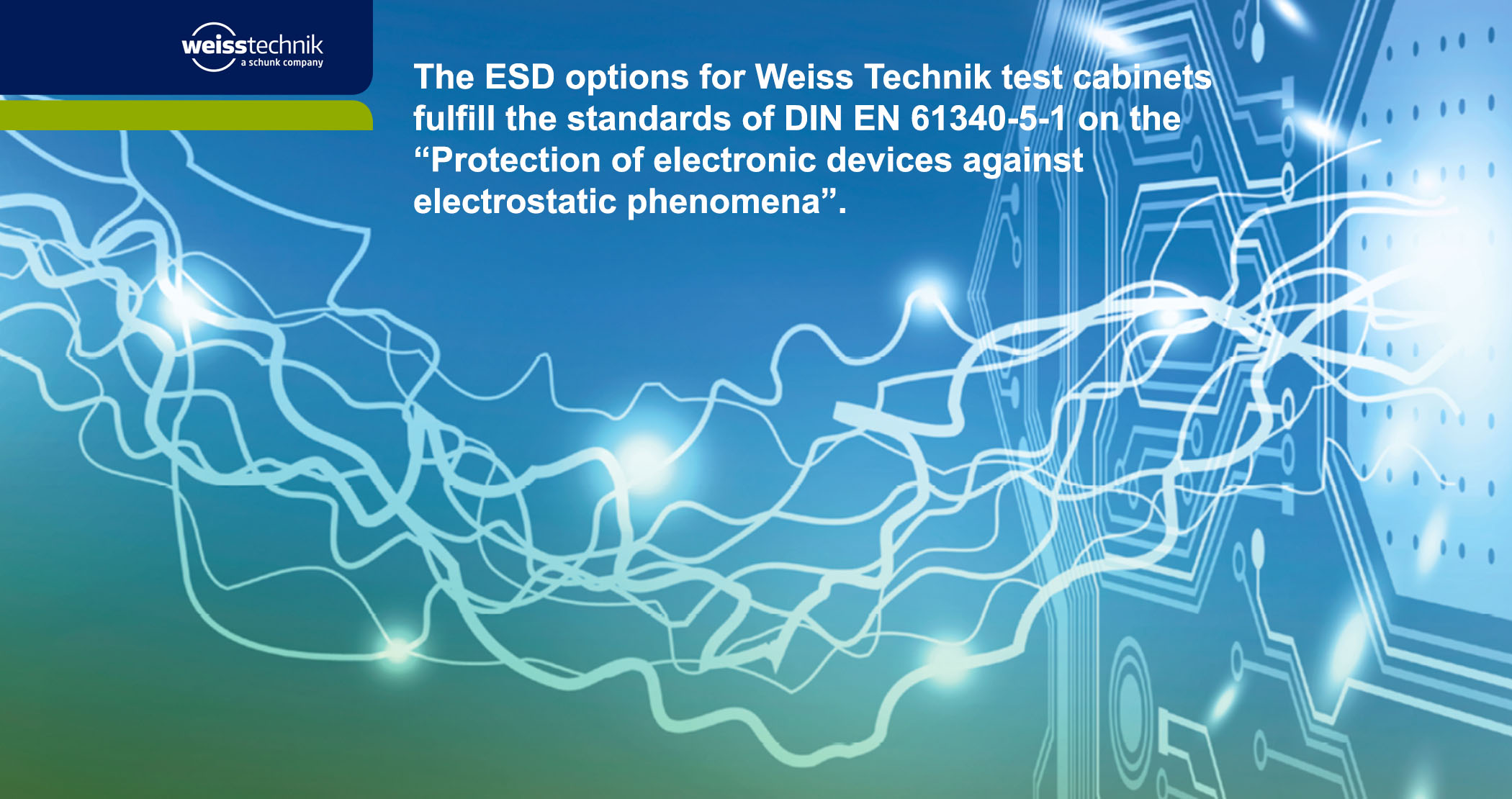 Test cabinets with ESD protection ensure electromobility and autonomous driving
Modern vehicles require an increasing number of electronic components. These increase driving comfort and make vehicles safer. At the same time, these components are highly sensitive and can be quickly damaged through electrostatic discharge (ESD) without the damage being noticed.
ESD: discreet, invisible and extremely dangerous
Electrostatic discharges are everyday phenomena. They occur wherever two differently charged, conductive materials approach each other or come into contact. This is the case, for example, when ESD-sensitive test items are placed into a test cabinet with one hand, while at the same time, the other hand holds the cabinet door or touches the operating field. The different charges offset each other suddenly and at high electric current flows. This voltage breakdown is called ESD.
The hidden danger for modern vehicles
While people only feel an electric shock from voltages of around 3,500 volts and above, electronic components are already damaged from levels of 100 volts and upwards. If the damage does not lead to a complete failure of the component, it frequently goes unnoticed. The consequences can be later functional errors and as a result, safety risks. With autonomously driving vehicles in particular, with their large number of sensors and control devices, faulty components can have severe consequences and in the worst case lead to accidents that cause death and injury. Guarantee claims may be asserted against the vehicle manufacturer and the suppliers of components as a result, and huge financial damage may be incurred, alongside a loss of image.
Avoiding overvoltage during development and production
For manufacturers of electronic components for electric vehicles or autonomously driving vehicles, it is therefore particularly important to provide the best possible protection during development and production against electrostatic discharging. Only in this way can the quality and safety of sensors, control devices, and circuit boards be reliably guaranteed, and the car manufacturing standards met. At the same time, all relevant production processes must be designed in an ESD-safe way. These include the establishment of ESD protection zones and the provision of ESD-safe fittings on the test equipment used.
Structural revision protects against ESD
Weiss Technik offers special ESD options for its environmental simulation cabinets. These prevent damage from ESD and as a result, help make vehicles safer and more reliable. With the ESD options, operating staff, the test space, and the test items are all earthed. For this purpose, a series of structural measures are implemented on the test cabinet, depending on requirements, and components such as seals and locks are designed with electrically insulating materials. In addition, the test cabinets are coated with special conductive paint.
Standard-compliant and tested by the ESD-Akademie
In order for the ESD measures to offer the desired protection, Weiss Technik cooperates closely with the ESD-Akademie in Großmaischeid. In this internationally recognized competence center for ESD protection, all protective measures are tested and certified. In addition, the staff is trained accordingly. The ESD options for Weiss Technik environmental simulation cabinets fulfill the standards of DIN EN 61340-5-1 on the "Protection of electronic devices against electrostatic phenomena". In this standard, all requirements are specified which companies must meet for the effective management of electrostatic charges.
ESD options are available for all Weiss Technik environmental simulation cabinets in the LabEvent, ClimeEvent and ShockEvent series. These come with test space volumes of between 20 and 1,500 liters and in different designs and performance classes.
There are also customized special designs and mobile models. In this way, Weiss Technik offers manufacturers of electric vehicles and autonomously driven vehicles and their suppliers' reliable protection against the consequences of unwanted electrostatic discharge.
Please contact us by email or give us a call, and a qualified staff member will advise you.