Photostability testing according to ICH Guideline Q1B
Vötsch photostability testing cabinets (VP Series 250-L, 250-LT, 500-L, 500-LT) offer innovative product features, high accuracy, intelligent controls and an exceptional build quality.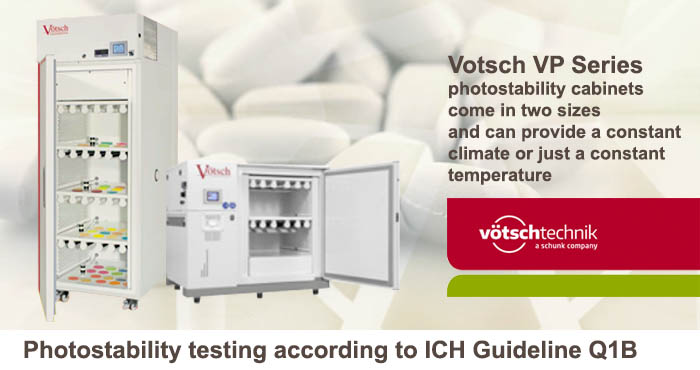 VP Series 250-L | 250-LT | 500-L | 500-LT
Vötsch VP Series photostability cabinets come in two sizes and can provide a constant climate (types 250-L and 500-L) or just a constant temperature (Types 250-LT and 500-LT).
The photostability testing cabinets are characterized by an ideal light, UV, temperature and humidity (types 250-L and 500-L) distribution and can thus guarantee absolutely reproducible light, UV and climatic conditions.
The lighting equipment used complies with the ICH Guideline Q1B Option 2 and enables photostability tests to be carried out in less than 100 hours.
One of the most important requirements in photostability tests is the homogeneous irradiation of the specimens. For this reason, all the specimens have to be positioned at the same distance from the light source. The inhomogeneous emission of light by fluorescent lamps is compensated with the help of special light and UV filter systems, thus a homogeneous irradiation of the entire storage area is achieved. For recording of the illumination and UV irradiance this system can be equipped with corresponding light and UV sensors. With this option entering of set-point values in lxh and Wh / m2 e.g. 1.2 Mio lxh and 200Wh / m2 is made possible to have a fully automated and with SIMPATI Pharma also fully documented process.
Standard scope of delivery
Microprocessor monitoring and control SIMPAC with 3.5" colour touch panel for entering of set-point values 


Fully integrated user management in the control panel

Shelves illuminated with UV light

Shelves illuminated with white light

Light and UV timer

Light and UV filter for optimum distribution (EEF) Software temperature limiter for min. and max. test space temperatures

Alarm system according to GAMP

Interior fittings are entirely made of stainless steel

Calibration of 2 temperature and 2 humidity values

Alarm output (potential-free contact) for monitoring of tolerance band ± 2C ± 5 % r.h.1
Water storage reservoir with automatic and manual supply of demineralised humidification water

Door contact switch


Lockable doors

Counter for total operating hours


4 castors, of which 2 have brakes

Air-cooled refrigeration unit with low noise emission

Patented vapour humidification system (SSS Sterile Steam System)

Capacitive humidity sensor

Entry port, Ø 50mm, in the right side panel

Operating manual

Multi-language touch panel (German, English, French, Spanish, …)
Most important options
Software package SIMPATI Pharma

Integrated datalogger for recording and processing of measurement values

Networking of several systems

Serial interface RS 232 C

Integrated UPS to keep the recording alive during a power failure

Registration of temperature and / or humidity

UV and Lux sensors with automatic measurement value integration

Mapping of light distribution

Additional temperature and / or humidity sensor

Acoustic and optical warning signal
Refrigeration unit, water-cooled

Glass door, heated

Additional entry ports

Demineralisation unit with exchangeable cartridges for Shelf with white Lights

Connection to local water supply

Qualification documentation for equipment and SIMPATI software

Special voltages

Analogue outputs

Maintenance contracts with defined response time

Operation at 5°C with full illumination