Shaker V726 LDS
Under smaller load, the equipment can reach an acceleration rate of up to 100g. With heavier sample load, the equipment can be used for simulation of sinus/random/shock application.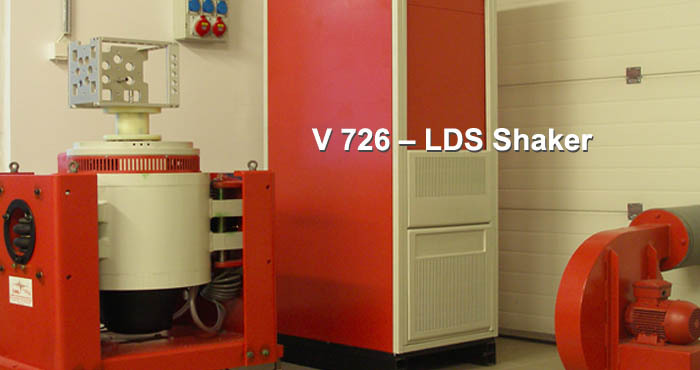 General 

Rated force sine vector (continuous duty): 6,672N 680kgf (15001bf)
Random force (max. armature current limit): 5,328N 545kgf (12001bf)
Frequency range: dc to 4,500Hz (nominal)
Maximum displacement (half-sine peak): 12.7mm (0.5in) peak
Maximum velocity: 1.78m/s (70in/s)
Maximum acceleration: 920m/s 2 (94g) vector (bare table)
Fundamental resonant frequency: 3,500Hz ± 2% bare table
Body suspension resonance
Vertical thrust axis: 2.5Hz natural frequency
Horizontal thrust axis: Below 2Hz natural frequency
Moving coil assembly
Maximum current (sine wave): 100A rms
Resistance dc at 20°C: 0.09 ohm (nominal)
Effective mass: 7.25kg (161b)
Suspension stiffness
Axial ± 5%: 63N/mm (3601bf/in)
Cross axis i- 5%: 17,520N/mm (100,0001bf/in)
Rotational ± 5%: 42,370Nm/radian (375,0001bf in/radian)
Suspension guidance
Upper: Four rubber isolated, rolling strut assemblies
Lower: Linear bearing system
Table diameter: 181mm (7.125in)
Table mounting: 13 Stainless Steel inserts ISO metric M8 coarse thread (see drawing of table insert pattern)
Field coil assembly
Maximum current: 57A do
Maximum voltage: 70V dc
Field coil resistance at 20°C: 0.95 ohm (nominal)
Field protection: Discharge rectifier
Stray field: CentreEdge
50mm above table (TESLA X 10-4): 43
150mm above table (TESLA X10-4):11
De-gauss assembly
Maximum current: 2A dc (nominal)
Maximum voltage: 70V dc
For further information, please, contact us!