Vibration controller – Crystal Spider-81
This configuration provides high flexibility, reliability, configurability and scalability.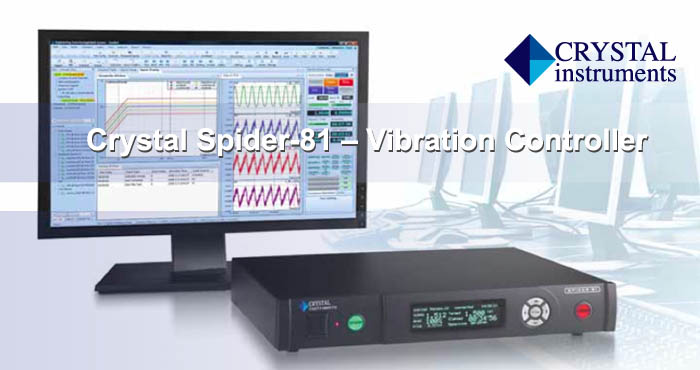 The Fourth Generation Vibration Control System

Analogue Inputs

8 BNC connectors per Spider-81 and Spider-80 units can be networked to form up to 1024 inputs: charge, voltage or IEPE, single-ended or differential, AC or DC coupling, 130dB dynamic range, 24bit A/D converters, range ±20 volts, up to 102.4kHz fs per channel.

Analog Outputs

2 BNC connectors per unit, 100dB dynamic range, 24 bit A/D converters ±10 volts.
Channel Phase Match
Better than ±1.0 degree up to 20kHz among all channels.
Peripherals

8 Isolated DIO; 10 monitoring channels, LCD display with navigation buttons, RS-485, ground connection, abort contact switch, start and abort buttons.
Dimensions

400 x 66 x 330 mm (WxHxD)
Weight
 4.2kg
Power
Up to 18 watts during operation. Powered from external DC power or internal back-up battery source.
PC Connections
100 BaseT, RJ45 female connector supports connection to PC or network switch.
Internal Memory

Flash memory for data storage: 4GB per unit.
Software

Random

Sine-on-Random

Random-on-Random
Swept Sine
Resonant Search and Tracked Dwell

Classic Shock, Transient, SRS
Time Data Replication

Limiting and Notching

Shaker Diagnosis Tools
Data Recording and Dynamic Signal Analysis
Thermo Chamber Interface
Options
Head Expanders
Fixtures

Sliptables

Test Systems
For further information, please, contact us!