Weiss equipment for environmental simulation product testing
Real circumstances of product operation as well as road, rail, maritime and air transport can be reproduced during simulation testing to make sure of product reliability.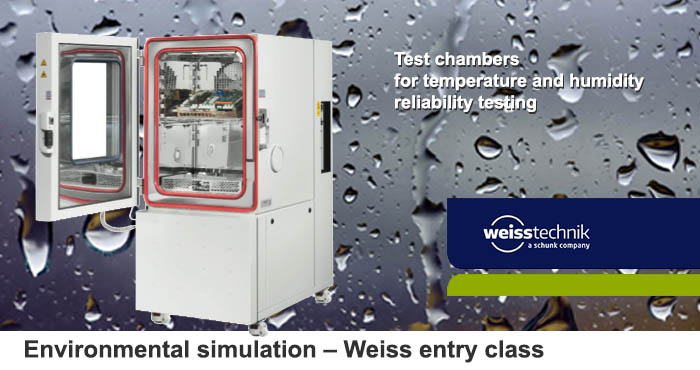 Simulation testing makes it possible that potential problems emerge during development or at the latest, before delivery from factory so that extremely expensive and brand destructive, later occurring claims and product recalls can be avoided.
Product samples to be tested are exposed to extreme environmental effects in a closed test area of a test chamber.
In temperature test cabinets only temperature can be changed in a wide range: samples can be examined on really low (down to -75 C°) or really high temperature (up to +180 C°) - even during operation.
Vents on the sides of chambers make it possible that cables and tubes can be brought in, thereby operation can also be carried out in test area.
Optional large-scale viewing panels with inner lights also provide visual observation of operation.
In climate cabinets and in large sized climate chambers built on site humidity can also be changed between 10-98% relative humidity within the temperature range of +10 to +95C°.
High performance Stress-Screening chambers offer high cooling and heating speed (up to 15K/min) for fast change of temperature.
Heat shock chambers simulate even more increased environmental stress: test objects can be moved between a cold (down to -80C°) and a hot (up to +220C°) test area.
Temperature and climate tests can be combined with UV radiation and vibration resistance tests which allows us to simulate mechanical-vibration and thermic-climate charging of the system, modelling real circumstances of product operation as well as road, rail, maritime and air transport.
Different elevations and space conditions can also be simulated with vacuum and overpressure chambers.
Weiss also manufactures test tubs for corrosive tests in which the effect of saline mist, agressive gases, acidic liquids, splashing water, rain etc. can be reproduced. 

Latest developments include SHED chambers and dust chambers for emission tests where dust can be brought inside test objects by using overpressure, moreover the effect of different granule sized abrasive materials can be simulated with high flow rate.