Weiss Umwelttechnik – Environmental simulation technology
Weiss Umwelttechnik is one of the most experienced developer and manufacturing companies involved in environmental simulation systems, including all aspects from temperature testing equipments to space simulation.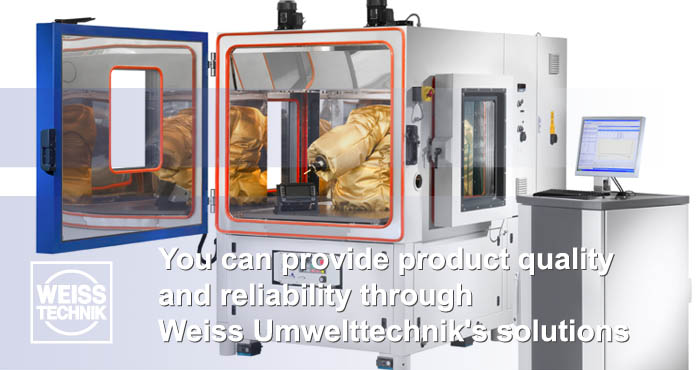 Environmental simulation has definitely become a normative in product development and quality assurance.
Testing environmental simulation systems may provide and enhance functionality, stability and quality of products and materials - before actual implementation.

Weiss systems simulate conditions of temperature, moisture, light and pressure as well as saline mist, harmful gas and vacuum states.

Technologies
Temperature and Climate Test Chambers
Test Facilities for Thermal Shock
Vibration Test Chambers
Corrosion and Weathering Test Facilities
Environmental Stress Screening (ESS)
HALT/HASS Systems
Vacuum Test Facilities
Dust, Spray and Splash Water Test Facilities
Walk-in and Drive-in Temperature, Climate and Corrosion Test Chambers
Sealed Housing for Evaporative Determination (SHED) and Emission Test Chambers
Explosion-proof Test Chambers
Their climate chambers offer you a size range of 34L to 200m3 which allows you to take all documentation opportunities with full support for qualification and calibration.
You can provide product quality and reliability through Weiss Umwelttechnik's solutions.

Its product range includes temperature and climate testing equipment, weather and heat shock chambers, test equipment that simulate corrosive effects, test appliances for long-term tests.
They can be purchased in the forms of table, cabinet, get around and car entry test chambers for the simulation of environmental effects and biological tests.
Planning, manufacturing and installation shall be executed in accordance with the specifications of the client.
Weiss Umwelttechnik has DIN EN ISO 9001 certificate.